Strategy Tips for Timing the Housing Market When Selling A Home
By Jamie Anderson on
In order to maximize sale price, sellers should aim to list their home near the end of spring
Listing at the end of the work week – or even on the weekend – will maximize how many people see your listing.
When deciding the best time to host open houses or set offer review dates, know that listing interest drops off quickly. In many markets, half of all views of a listing within the first month occur during its first week on market.
Less than 1 in 4 homes that take longer than 1 month to sell end up selling for their initial list price or more.
For the second year in a row, listing near the end of the selling season looks to be the best option for those sellers looking to both earn the highest return on their home and sell it quickly.
It's likely that because the inventory of homes for sale is so constrained (and getting worse), an increasing number of home shoppers are unable to find their dream home – in their ideal budget – by the end of the selling season, and end up spending more than they intended. This means late-spring listers can capture these perhaps frustrated buyers and earn an additional $1,500 on the sale of the average U.S. home compared to listing at the average point in the year, according to a Zillow analysis of listing dates and sale prices. (figure 1)
Figure 1 Scene Here. The Best 2 Week Window to List Your Home.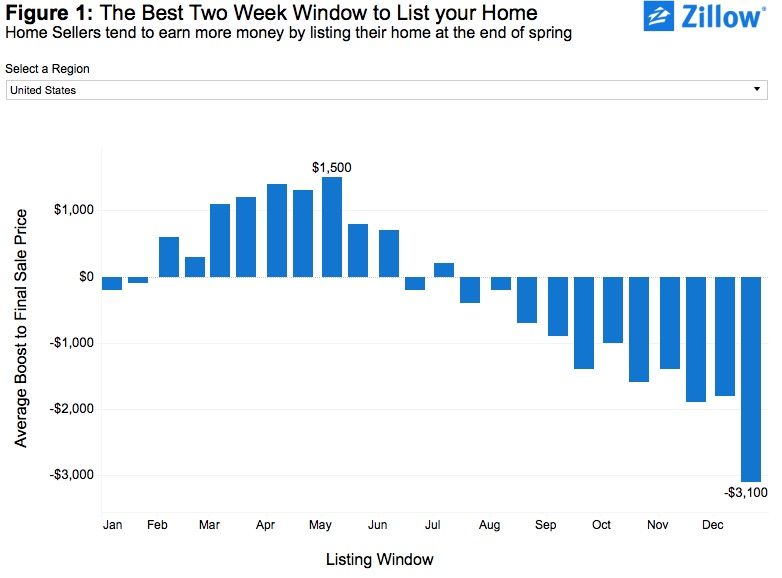 In the majority of markets included in the analysis, the best window to list your home follows the same national pattern. In 20 of the 24 largest metro areas, the best month to list is either April or May. Seattle, Sacramento, Portland and Denver had the largest seasonal boost to listing during the optimal window – sellers in each of these markets can expect between 1.5 and 2.5 percent higher final sale prices by listing in this period.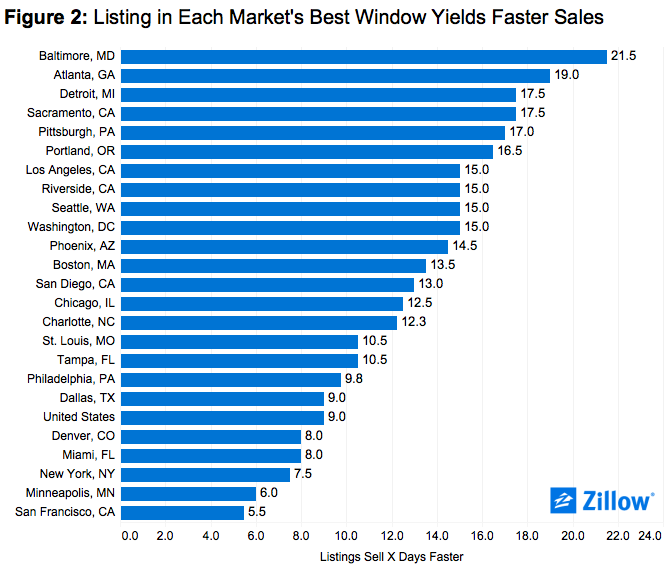 And not only do homes fetch more money when listed in this magic window, they also sell much faster – roughly 1-3 weeks faster than the average listing in the year. Baltimore homes listed for sale during this "just right" Goldilocks zone, for example, sell more than 3 weeks faster than other local homes listed for sale outside the window (figure 2).
As part of our analysis, we also wanted to determine whether there's a best day of the week to list. Ultimately, listing on different days of the week has insignificant effects on price, but can have a big impact on visibility, as measured by the number of times a listing is viewed on Zillow. Using our traffic data, we grouped listings by the day of the week they were first posted and averaged how many page views homes listed on a given day receive in their first week on market. As it turns out, listing at the tail-end of the work week – or even the weekend itself – is the best bet for maximizing the number of home shoppers that see a given home. Nationwide, listing a home for sale on Saturday earns the average listing an extra 20 percent more views in its first week on the market than listing it on Monday (figure 3).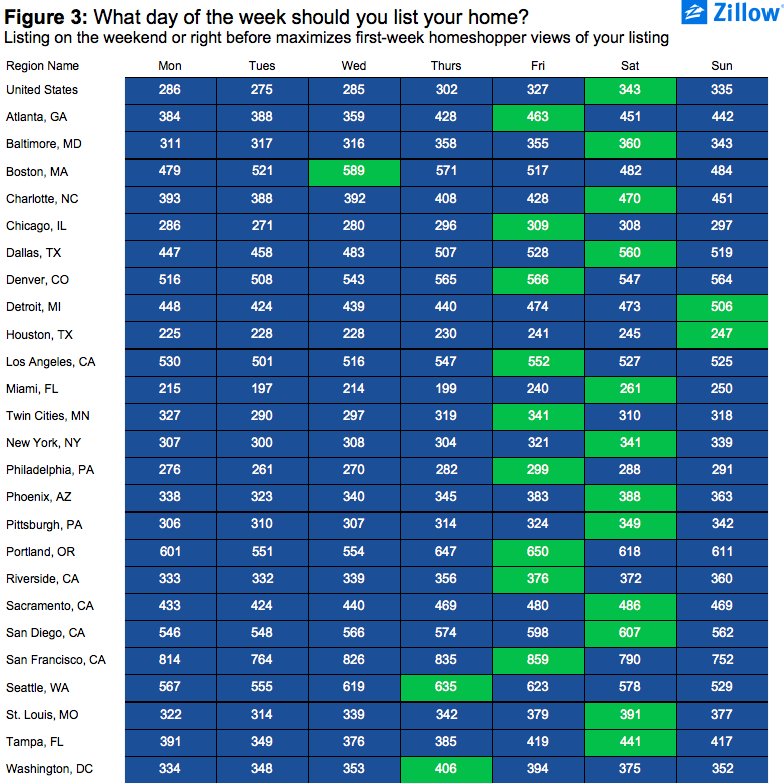 Another common dilemma home sellers face is determining at what point to host an open house. For example, does it make sense to have a second or even third open house several weeks after listing? The correct answer is very dependent on how quickly a homeowner needs or wants to sell, but across all markets, the biggest number of shoppers will see your listing within the first week of its appearance on the market. In subsequent weeks, the number of views drops off dramatically. Between 2015 and 2016, the average listing received 82 views on Zillow in its first day on the market. By the second week, that same listing gets only 20 listing views per day (figure 4).
Figure 4 Click Here - Listing Interest Falls Off Quickley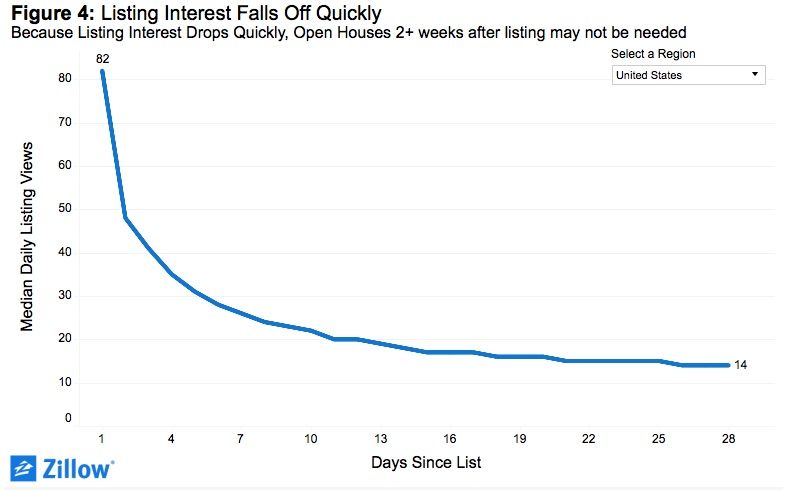 But even under the best circumstances and assuming all of the best steps have been taken to maximize a home's exposure and time on market, it's unrealistic to expect every seller will get their exact listing price, and they should also plan for the worst. For example, if after a month a seller still doesn't have any offers in hand, what should they do? Per usual, the "correct" answer varies greatly from market-to-market and depends on personal factors. But according to our analysis, if a home is still on the market after a month, its chances of being sold at full listing price (or more) are greatly diminished. Nationwide, less than 1 in 4 homes sold after being on the market for more than a month end up actually fetching their listed price (figure 5).
Figure 5 Click Here - The Longer the Home Lasts on the Market, the Lower the odds of Selling for List.
The share of homes sold at or above list price is very market dependent. In Seattle, 84 percent and 74 percent of homes sold within 1 or 2 weeks, respectively, sell for at least their initial list price. In Chicago, only 44 percent and 33 percent of homes listed one or two weeks, respectively, sell at or above list. But in hot and fast-moving San Francisco, 1 in 5 homes on the market for more than 3 months still somehow manage to find a buyer willing to pay list price or more.
Understanding the market and the results we achieve for clients is important to us...and s...
ABOUT THE AUTHOR
Jamie Anderson is a Data Scientist at Zillow.