Feel the Power of the Dark Side
With the Benjamin Moore color of the year Shadow on our minds, we noticed lots of showrooms going dark, and thought we would share a Houzz article about feeling the power of the Dark Side!
Designers have many tools and tricks for decorating homes. Some are matters of personal taste and signature style, while others are rooted in tradition and conventional wisdom. One move is using dark colors to make objects appear to either advance or recede in a room. Here are 10 ways designers wield the power of the dark side.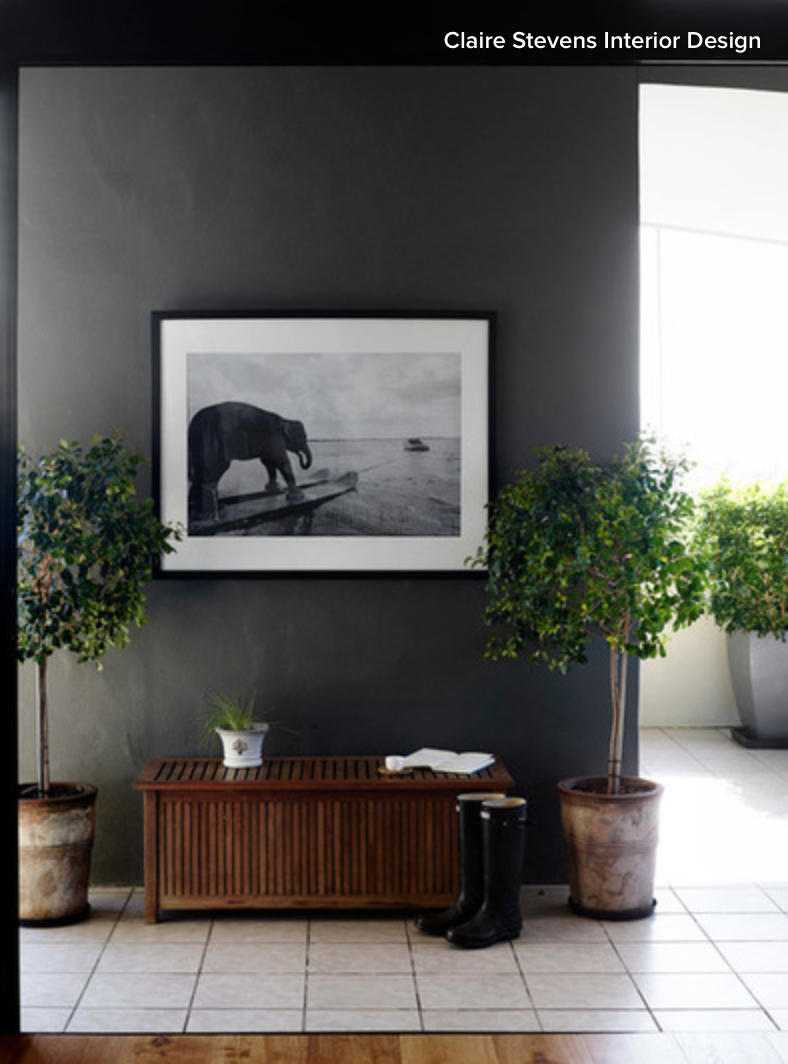 1. Show off a picture. If you're a fan of black-and-white photography, you should become friends with dark wall colors. This Australian hallway designed by Claire Stevensfeatures a wall covered in a matte charcoal-gray paint that seems to recede into the background, allowing the white-matted photo to advance and stand out as a focal point.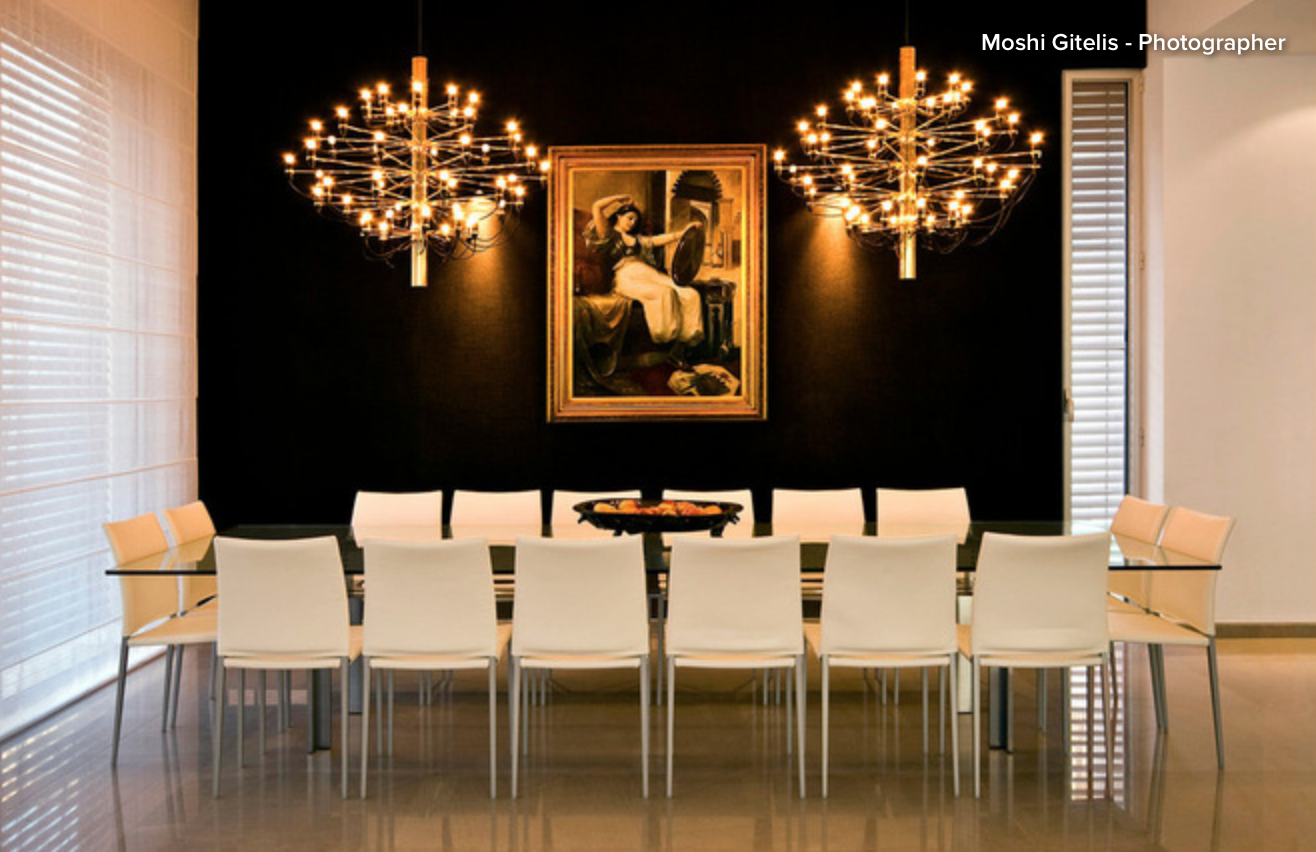 2. Create a light show. There's a reason light pollution hinders stargazing. The darker the sky, the more the celestial bodies glow. Light, like black-and-white photography, is even more luminous against a dark background, whether the night sky or a painted wall. If you've invested in striking light fixtures, consider upping their drama by painting the walls a rich, dark hue.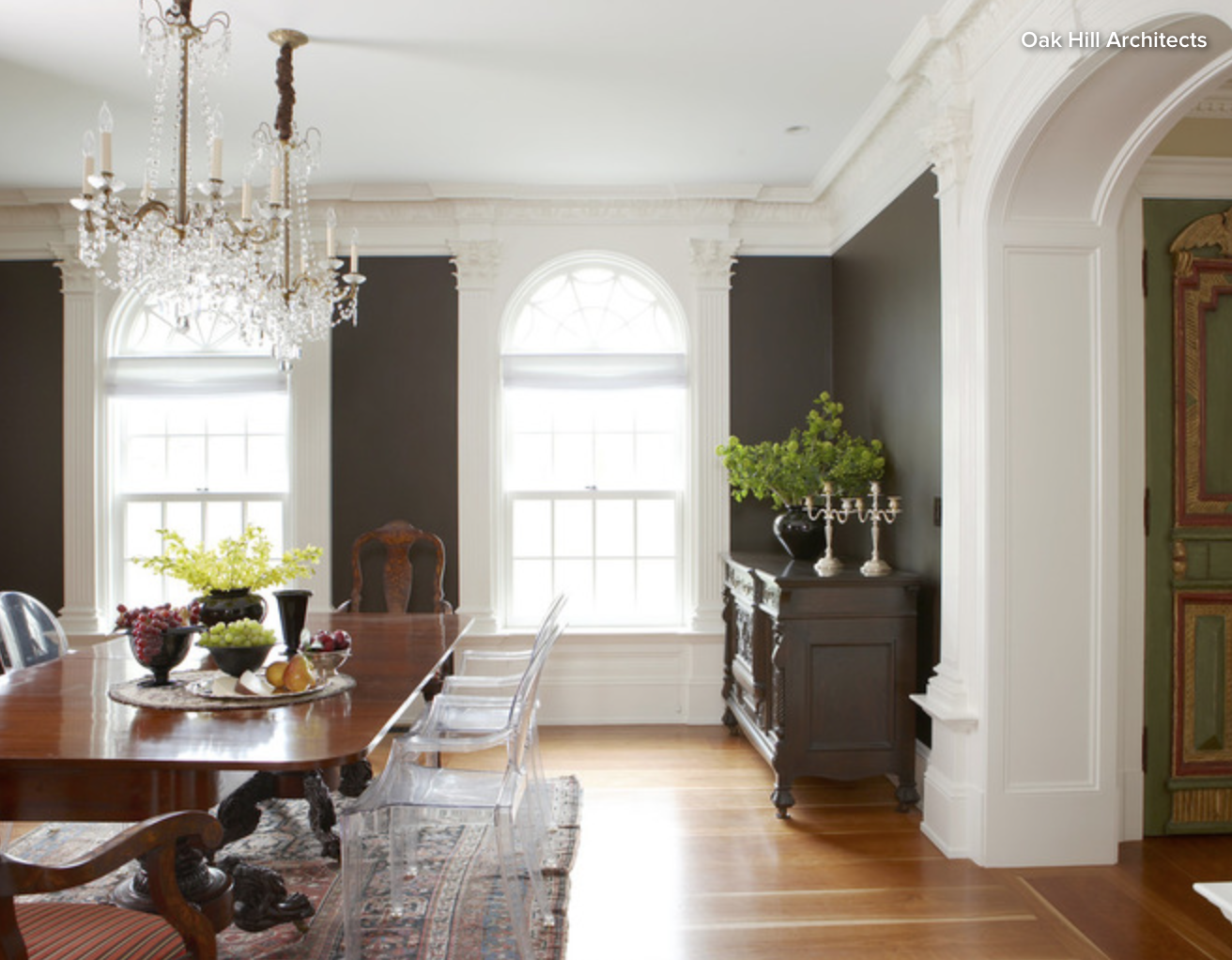 3. Maximize millwork. Cloaking walls in dark colors allows them to recede so that fine millwork can advance, especially when it's painted white. Many people hesitate to darken their walls out of fear that the space will feel cramped or that such a strong color will dominate everything else in the room. This elegant dining space should allay those fears — the walls simply stand back as the detailed millwork shines.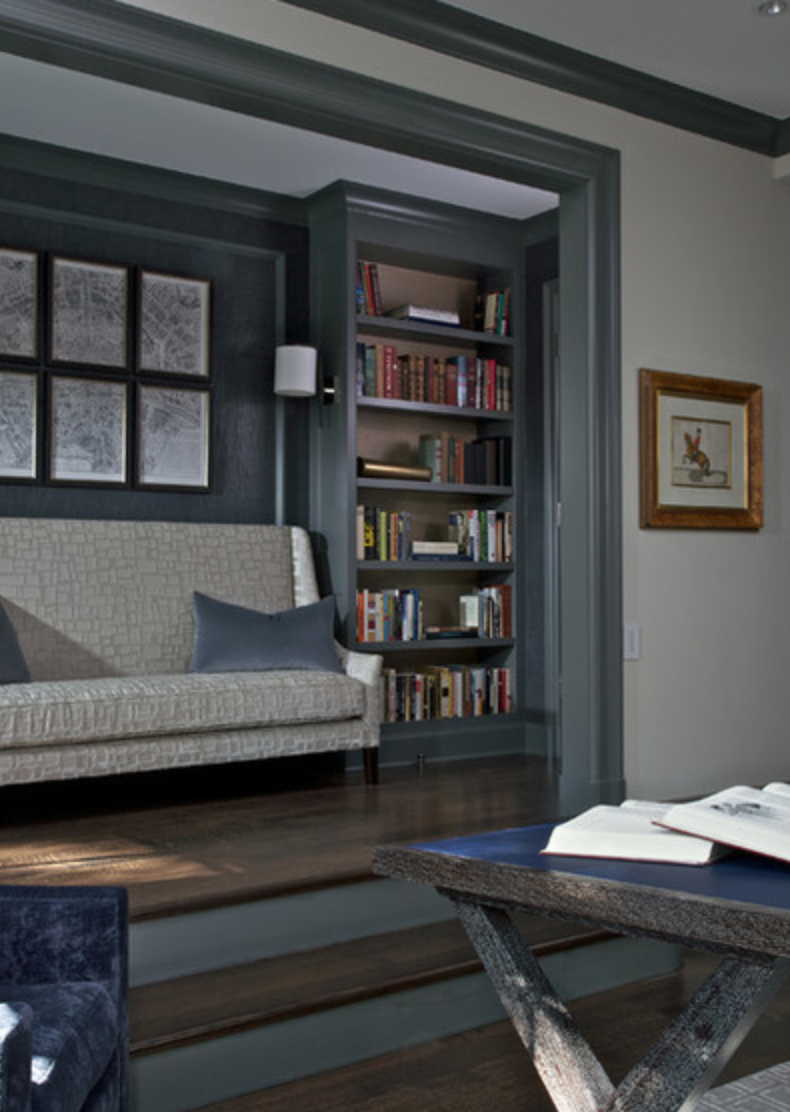 4. Be a friend to fabric. Upholstery fabric doesn't need to be very light to stand out; it just needs to be set against an even darker background for contrast. The neutrality and scale of the delicate gray-on-gray pattern on this settee may have faded into the background of a beige or light gray wall. Do a piece like this honor by setting it against a dark backdrop where it can become the star of the room.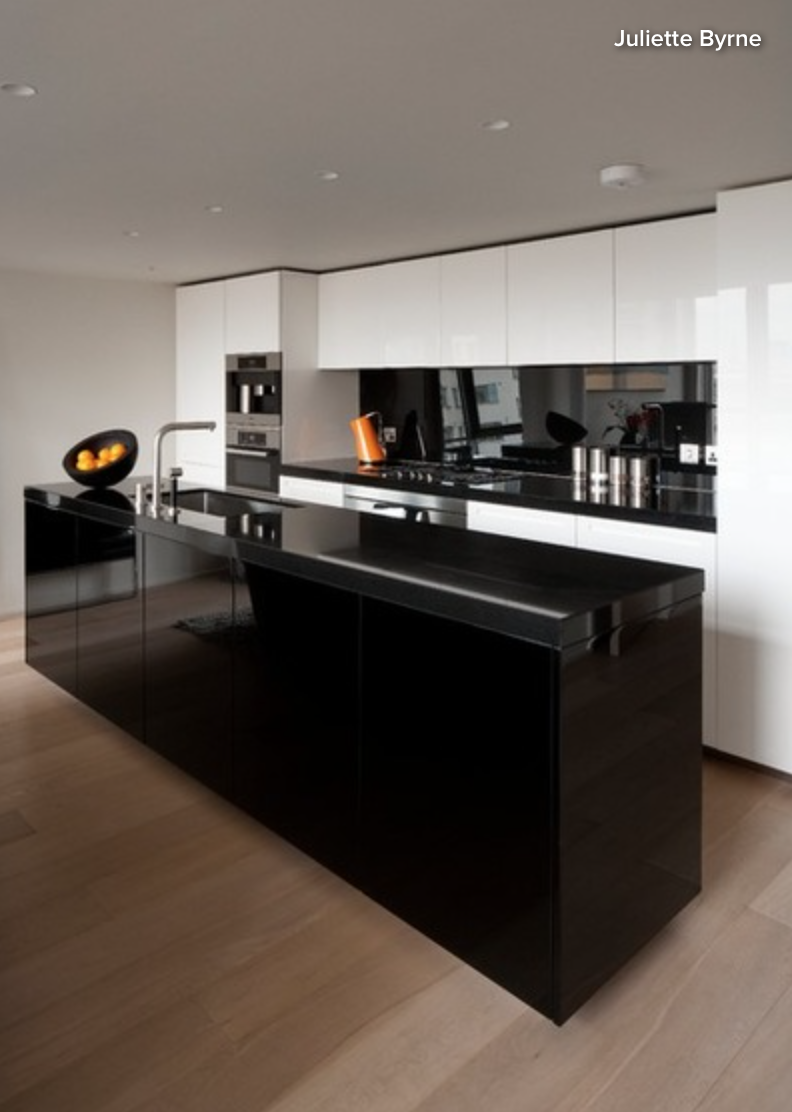 5. Reduce visual weight. Using a bold black for the largest single unit in a room will seem counterintuitive to some, but hopefully this kitchen clears up any misgivings. The enormous island is undeniably present, but its black lacquer seems to minimize its proportions and blur its edges, thereby reinforcing the openness of the kitchen.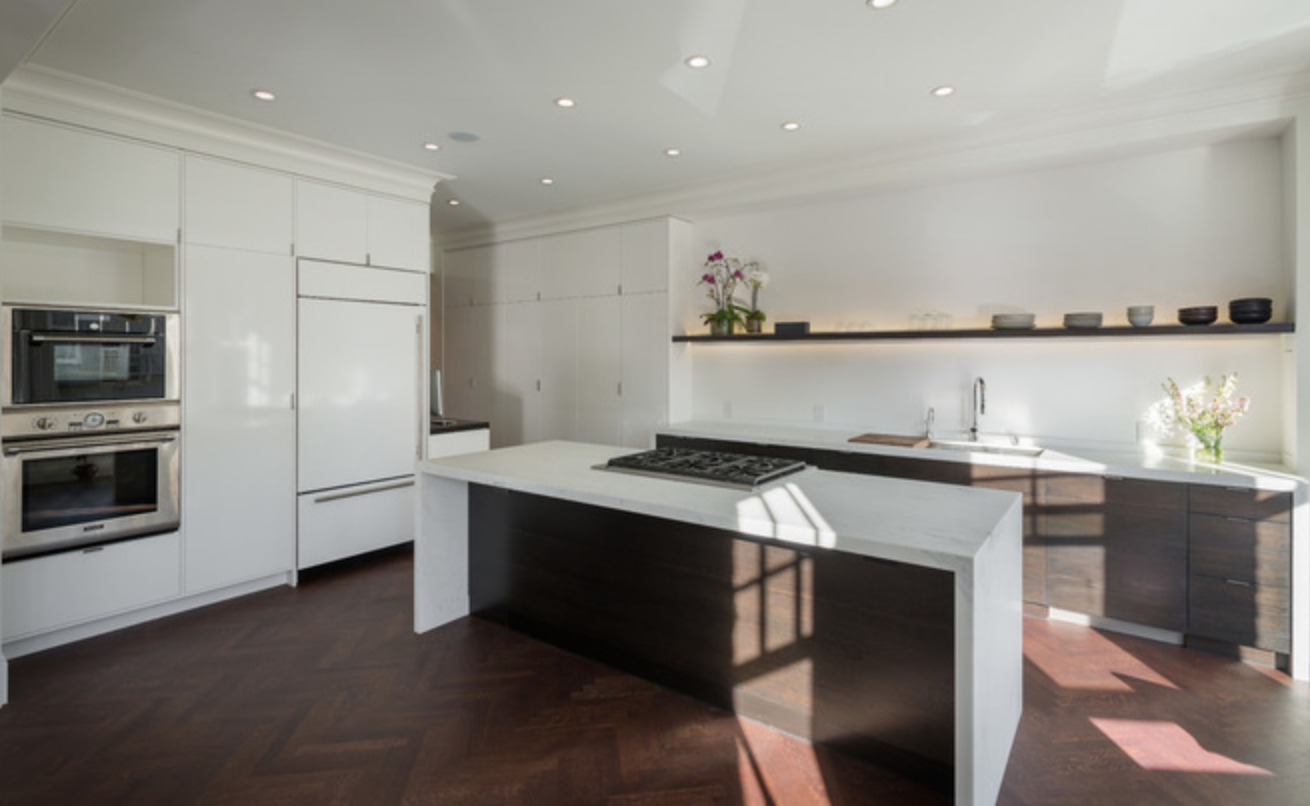 6. Change the perspective. Visually canceling out a large unit isn't always necessary or desired. Instead, altering its proportions with darker tones can do the trick. Here, the island's white quartz waterfall top and sides are left to be admired, while the base is de-emphasized with a deep rich wood stain to help it blend into the flooring.
7. Minimize columns. If black and other moody shades make objects recede or disappear, it stands to reason that a dark hue would be the go-to choice for painting structural necessities you'd rather not call attention to, such as columns in an open floor plan. Notice here that white paint covers the surviving walls; again, color can be used thoughtfully to highlight what is desired and downplay what isn't.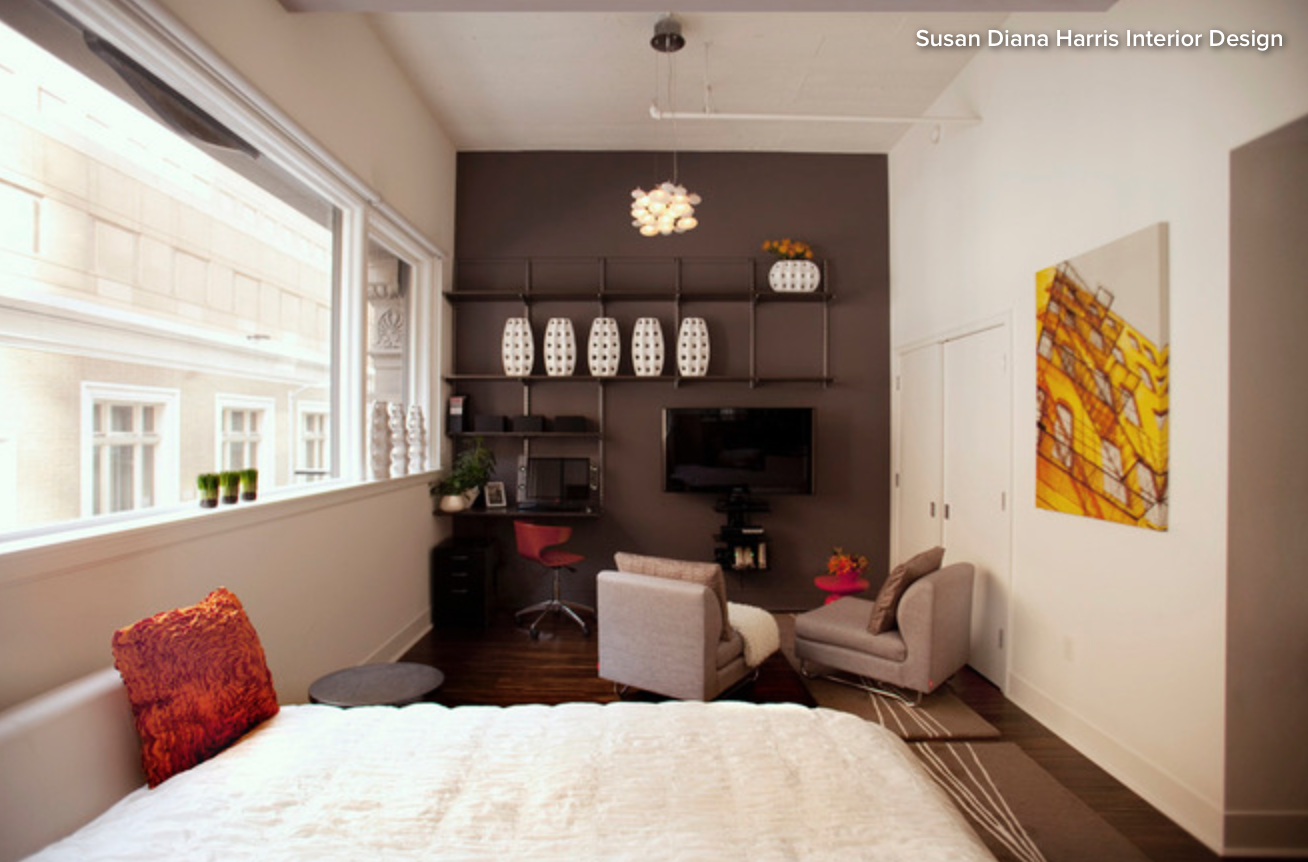 8. Conceal a TV. Another item that ranks high among those we wish to camouflage is the television, and the surest way to reduce its power over a room is to set it against a dark wall. A quick once-over of this San Francisco bedroom designed by Susan Diana Harrisreveals a lovely little light fixture hanging from the ceiling and a series of decorative vases on floating shelves, but it takes a closer inspection to reveal the TV hiding in plain sight.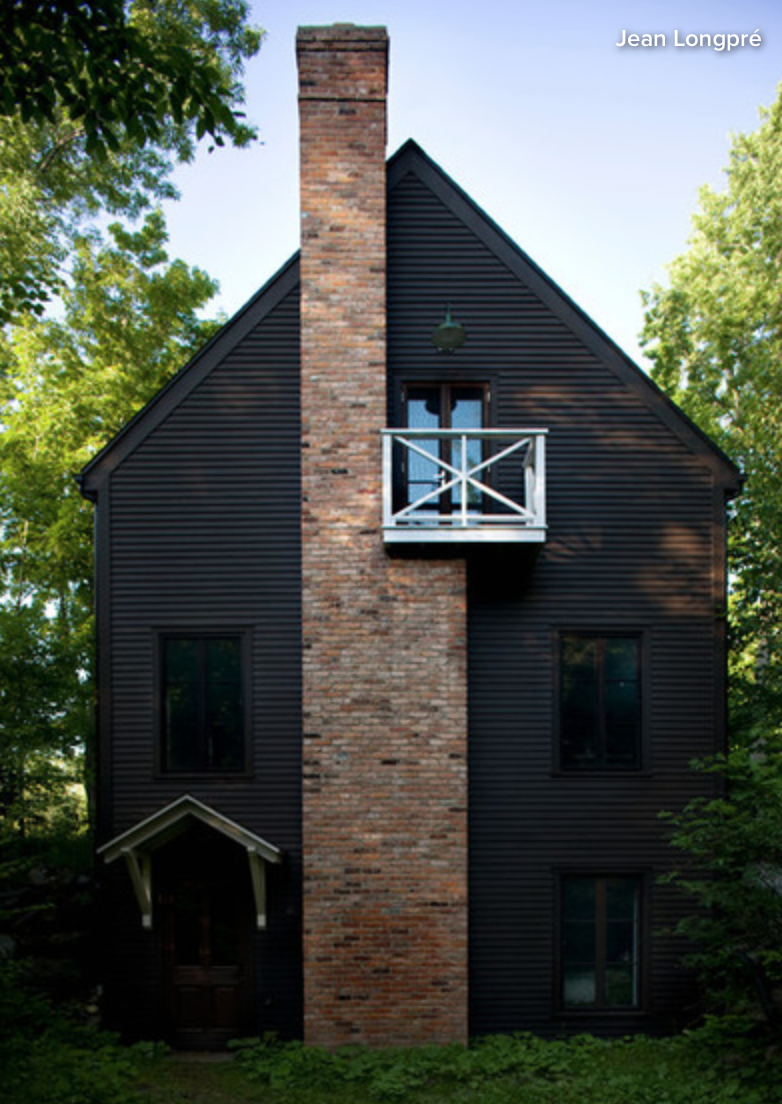 9. Play with exterior paint effects. Just like a dark interior wall, a darkly painted exterior brings out other elements. This farmhouse in Quebec, Canada, almost disappears into the vegetation. The chimney and balcony still stand out to give indications of human life, but the underlying structure seems designed to hide behind the real stars of the property, the trees.
10. Open the backyard. Far from constricting the sense of space, the dark fence seems to eliminate this backyard's boundary. The perimeter effectively goes away, making the yard feel more open and spacious. Additionally, dark paint can perk up a worn fence since it hides defects.