Dwell Welcomes James Barton!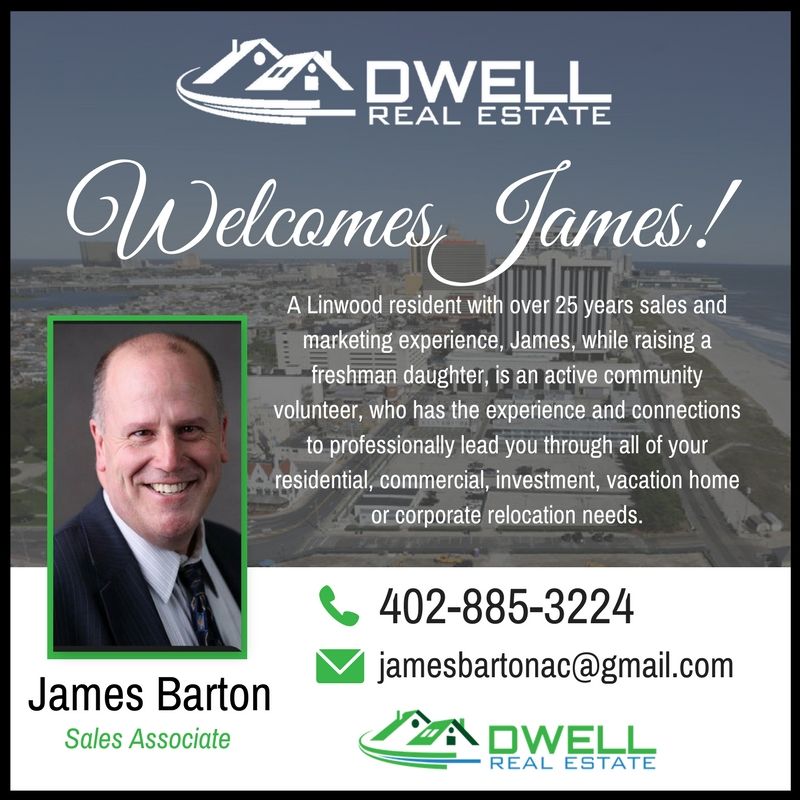 I am pleased to announce that I have decided to plant my flag right here in Linwood.
Real Estate is in my blood. As most of you know, my Mom (Janet Barton) was a past State President of New Jersey Association of Realtors (NJAR) and operated Barton Realty for well over 40 years in Cranford. I worked there as a young man back then, and am excited to begin again. I will continue the family tradition by joining Anthony D'Alicandro and his team at Dwell Real Estate in Linwood, NJ.
I have had my license approved and activated, and effective immediately, I can help you
I get to create my own schedule, which allows me to establish a connection with my clients and serve them effectively. Customer service is one of my top priorities, and the flexibility of my time allows me to efficiently guide my clients through one of the largest and most significant purchases of their lives. During my 25-year career in sales, it was natural to developa true passion for the business.
I'm a single dad and my daughter is my greatest source of inspiration. If my biggest accomplishment is to guide her well and provide her with the tools she needs to be a good citizen of this world, I will have lived a fulfilled life.
I'm committed to taking an active role in my community. Whether by being a Girl Scout Dad for Cookie Sales, or a Drama and Choir chaperone / volunteer over at Mainland High School, my roots are down. I am always looking for new ways to give back to the community that supports and sustains my family.
If you are thinking of moving, want to see what your home is worth or know someone that is thinking of doing so themselves, please do not hesitate to reach out and our team at Dwell Real Estate will gladly set up a time to come see you
Looking forward to hearing from you…. Even those out of state needing a referral.
James Barton
Licensed Real Estate Professional
Dwell Real Estate